Why SmartMat electric underfloor heating mats are the smart choice
March 22, 2017 Katie
SmartMat's superior product design ensures a speedy installation with an even heat across the complete floor surface, whilst allowing unlimited adjustment of the heating element to suit irregular formats.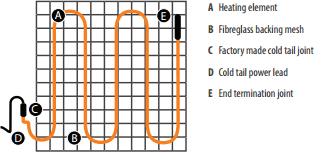 The SmartMat underfloor heating mat has a self-adhesive fibre glass backing mesh with an ultra-thin twin conductor 3mm heating cable pre attached, ensuring minimal increase to the existing floor height.
The self-adhesive electric underfloor heating mat aids quick installation by adhering to the sub-floor and the high quality stitching ensures the cable stays closely bound to the heating mat decreasing the height of the underfloor heating installation.
Available in 3 applications:
SmartMat 100W/m² - Timber base
SmartMat 150W/m² - Concrete base
SmartMat 200W/m² - High Output
The SmartMat benefits that make all the difference:
Lifetime warranty - SmartMat Lifetime Warranty - The best in class floor guard warranty, SmartMat warranty covers the floor unlike other manufacturers who only guarantee the product
SmartMat SmartGuard Installer warranty - Guarantees if you damage your SmartMat product before your finished floor surface is installed we will replace your SmartMat
Self-adhesive fully stitched mesh design - This ensures the cable stays closely bound to the heating mat with speedy installation
Range of applications available - Including timber floor (100W), concrete floor (150W) and high output (200W)
3mm mat thickness - The 3mm thickness ensures minimal increase to the existing floor height
SmartMat is a premium well trusted brand - The premium quality specification underfloor heating mat
S Mark Approval - S Mark is a symbol which shows independent testing ensuring safety is not risked by product failure
S Mark Approval for European Electrical Safety
The S Mark is a visible proof of the safety of our product. S Marking is assurance that your safety will not be put at risk by a product safety failure.
Since CE marking does not require independent testing, critical consumers and retailers look for products with marks from impartial testing companies.
In fact, surveys show that when consumers are aware of the difference between the S Mark and CE marking, nearly 80% say that the next time they buy an electrical product, it will be "important" or "very important" that it is S Marked.
Self Adhesive Underfloor Heating Mat
The heating cables are attached to a strong durable nylon mesh with a highly sticky backing, this enables a quick and secure installation avoiding the mat floating or moving in the tile adhesive.
This complete mesh adhesive results in a far superior adhesion to the floor unlike the poor quality equivalents which generally have two or three self-adhesive tapes and struggle to grip effectively resulting in a poor installation. Yet another reason to buy the best value product Smartmat.
Fully Stitched Underfloor Heating Cable
Our heating cables are stitched to the durable backing mesh with a special heat resistant thread, which means the element spacing remains uniform and provides a guaranteed even distribution of heat. This eliminates the opportunity for cold spots, a common problem with lesser quality products. Yet another reason to buy the best value product Smartmat.