Electric Underfloor Heating Vs Water Underfloor Heating
February 22, 2017 Katie
Which underfloor heating system should you choose?
If you are undecided which system to install for you, we have some helpful pros and cons for each system which may help you decide which system is best for your project
What is Wet/Water Underfloor Heating?
A water-based underfloor heating system has a series of pipes connected to your boiler circulating a controlled flow warm water throughout the floor to heat the space. Alternatively, you can connect the water under floor pipes to sustainable technologies such as solar water heating system, air source or ground source heat pump. The pipes are laid discreetly beneath the floor covering or in the inscreed, and is suitable for almost every flooring.
Why choose water?
Extremely efficient to run and works at low temperatures
Ideal for use alongside heat pumps to get amazing efficiency
Emits a very comfortable heat
Placement of furniture and heavy items can be done, but needs to be done carefully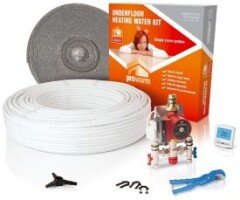 There are 4 main types of wet underfloor heating systems available:
Standard output zone - A standard output system is suitable for internal well insulated areas such as a living room, kitchen or bathroom, controlled by a single thermostat.
High output system - A high output system is suitable for areas of high heat loss, ideal for conservatories, extensions and external buildings with lots of glass.
Multiple zone system - A multi zone system is suitable when you want to control different rooms at different temperatures and times, ideal for complete new builds.
Low profile system - A low profile system uses a smaller pipe diameter which attains a lower floor height. These systems can be used on existing floors with minimal disruption.
The temperature is controlled by a thermostat, or for multi-zone installations - multiple zoned thermostats linked to a central wiring centre. Zoning is used to control the heating on a room-by-room basis.
What is Electric Underfloor Heating?
Electric underfloor heating system is a series of electric wires or electric heating mats installed beneath or within your flooring. These are used to heat an area or a room, such as a cold, tiled bathroom floor. The mats are usually laid on top of a layer of screed and a layer of floor insulation - this ensures that heat travels upwards rather than down.
Why choose electric?
Relatively inexpensive to install
No pipework – easy installation
Easily installed on upper floors
Placement of furniture and heavy items can be done, but needs to be done carefully
Quick heat up for instant heat
Emits a very comfortable heat
There are 4 main types of electric underfloor heating systems available:
Underfloor Heating Mat Kits - As our most popular system, the high quality premium underfloor heating kits are simple and quick to install, ensuring that your underfloor heating system is both efficient and effective.
Underfloor Heating Loose Lay Cables - Used in intricate areas, generally where mats aren't suitable. The wire is simply put down loose and stuck to tape.
Underwood Heating Foils - Underfloor heating foil is designed to sit safely under wooden, floating floors, carpet, vinyl and other resilient floors when combined with insulated underlay /dual overlay.
Underfloor Heating In-Screed Cables - Underfloor heating in-screed cables are used primarily in any new build or extension.